Great Looks and Durability with Luxury Vinyl Tile in Gonzales, LA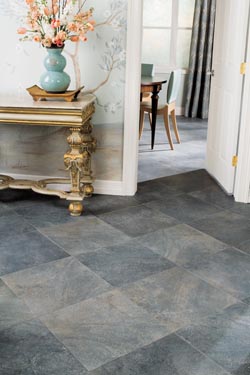 You can walk across your floors a limitless number of times without giving them a second thought, but then there comes a day when you decide an upgrade is in order. On that day, and the ones that follow, you give your floors plenty of consideration. You wonder what type of flooring you should choose, what style and design. It's not an easy choice, but when you choose luxury vinyl tile in Gonzales, LA, it's a step in the right direction.
Vinyl is a very popular option that comes in a vast array of styles and designs and you are sure to find exactly what you want at Halpin's Flooring America. Our friendly and experienced team will work with you to ensure your flooring needs are met.


Adaptable and Long-Lasting Choices
Suppose you want wood flooring for your bathroom but know it's not a good idea because of moisture and humidity, in that case, luxury vinyl tiles will work. You can pick a type that looks just like wood planks but gives the water resistance and durability of vinyl.
Perhaps your tastes tend toward natural stone, but your finances do not match. Consider vinyl in that instance as well, and you won't be disappointed. Our tiles provide the look of stone combined with the resilience, comfort, and value of vinyl.
In either case, you are getting the look you've set your heart upon while knowing that what you've chosen is going to last a long time.


Accurate Installation is a Key to Performance
You are happy with the flooring you've settled upon and can't wait to get it in your home. All that's left is the luxury vinyl tile floor installation process. This is another area where vinyl shines since it can be installed over virtually any surface and, in the hands of our skilled installers, can be laid in different designs.
Our experienced installers work quickly and accurately to give you a finished product you will be proud to show your friends and neighbors. As they work, they make sure every cut is precise, and every angle is accurate, you won't worry about uneven tiles, seams that expand, or ridges and gaps.
Vinyl is also known as LVT flooring, but by any name, it's a great choice. Once you have it installed, you will realize that those rooms are a little easier to heat and cool because vinyl provides a level of insulation. It's truly a remarkable and efficient choice for flooring. Not only does it have lasting beauty, but it requires very little maintenance as well.



Contact us to learn more about our vinyl floor selection. We proudly serve customers in Gonzales, St. Amant, Sorrento, Donaldsville, Geismar, and the surrounding areas.