Update Your Floors with Luxury Vinyl Planks in Gonzales, LA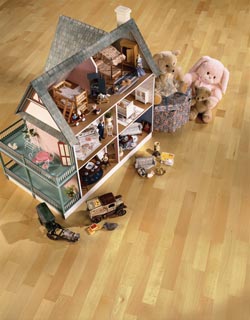 Breathe new life into your home by upgrading your floors with luxury vinyl planks in Gonzales, LA. These planks are designed to mimic the appearance of hardwood flooring while providing the resilience and moisture protection of vinyl. It is for these reasons that vinyl planks are a popular choice amongst homeowners looking for a cost-effective flooring solution for their home. To learn more about the advantages of a luxury vinyl surface or to explore our vast collection of other flooring options, visit Halpin's Flooring America today.
Limitless Design Potential
When choosing a vinyl plank surface, there are countless colors, textures, and patterns available to select. These options let you design a luxury vinyl plank floor that fits perfectly into your existing décor or acts as the basis for a brand new aesthetic. Furthermore, if you are unsure of what appearance you want for your home, then our team is here to help.
Our flooring experts understand the intricacies of a well-designed home and will use this knowledge to help you determine which flooring would work best in your rooms. In addition, we'll discuss your current or desired theme or design, and we'll narrow down your search to the textures and patterns that you'll enjoy the most.
Superior Resilience
As a homeowner, you want a flooring solution that is strong enough to stand up to the rigors of your hectic household. And, With an LVP floor, you have the right answer. Vinyl is highly resistant to wear and is also easy to maintain. This ensures that your surface keeps its beautiful appearance for years.
Vinyl planks are also water resistant, allowing you to add the timeless aesthetic of wood to rooms where real hardwood isn't recommended for use, such as a bathroom or kitchen. The moisture resistance of vinyl also helps prevent mold and mildew growth in your home.
Additionally, LVP is soft underfoot and provides excellent noise reduction and insulation. This makes vinyl a comfortable choice for bedrooms and living areas.
Complete Flooring Installs
In addition to hosting one of the largest selections of flooring in the area, Halpin's Flooring America also offers luxury vinyl plank floor installation for home and business owners. Our skilled team has the experience and tools to efficiently layout and install your LVP, ensuring that it looks as good in your home as it did in our showroom. Additionally, we can place your new vinyl surface directly over most old floors, making the process even quicker.

Contact us when you are looking for luxury vinyl flooring for your home. We proudly serve Gonzales, St Amant, Sorrento, Donaldsonville, Geismar, French Settlement, Maurepas, Pierre Part, and Napoleonville, LA, as well as the surrounding areas.