Kitchen Remodeling in Gonzales, LA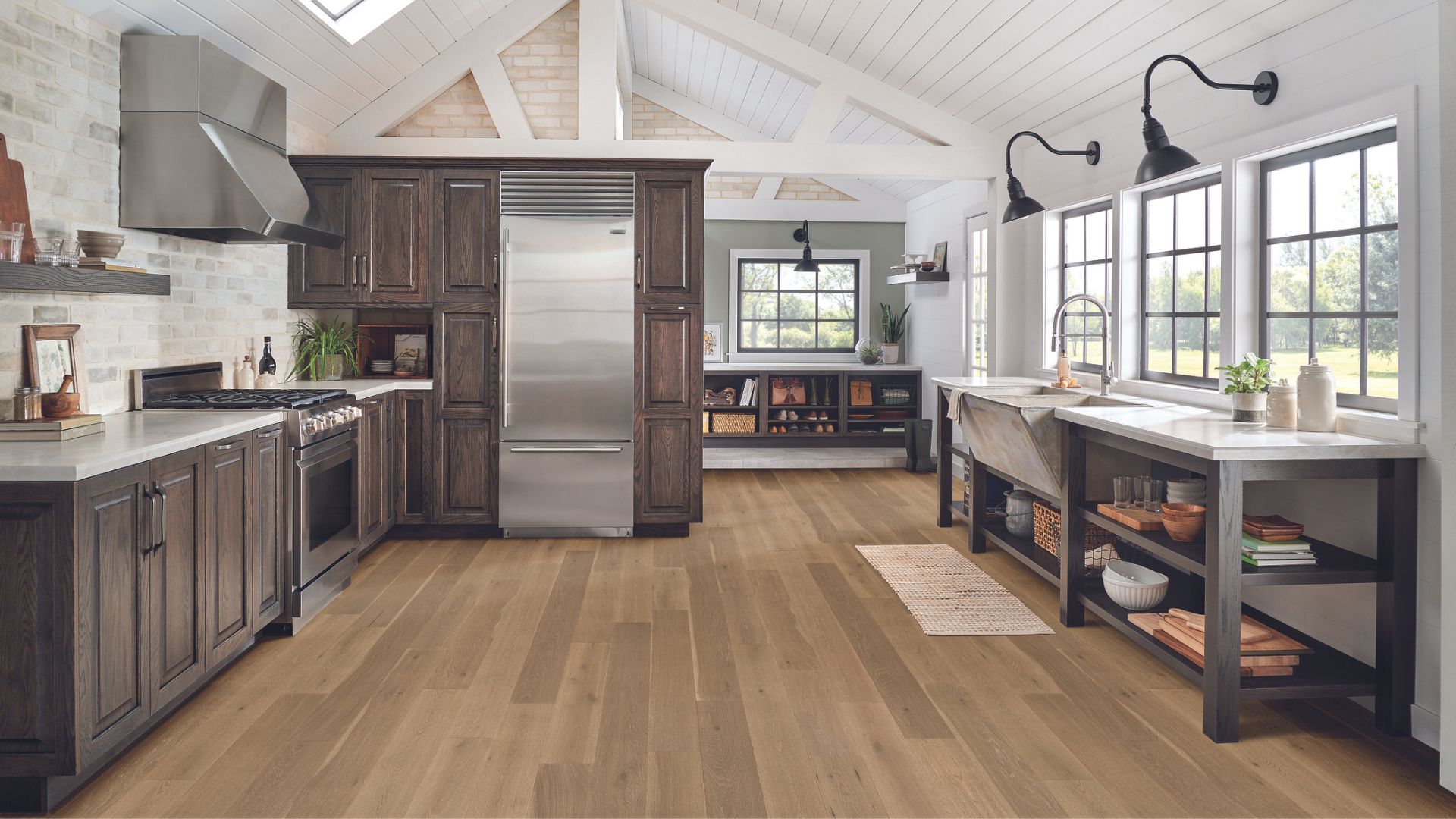 Transform your kitchen with Halpin's Flooring America, your premier choice for top-notch kitchen remodeling in Gonzales, LA. Our experienced designers are here to lead you through a seamless journey, merging style and functionality flawlessly. Explore a vast selection featuring high-quality flooring and captivating kitchen backsplashes and countertops from industry leaders. Our dedicated staff ensures meticulous planning and flawless execution for your project. If you're unsure where to start, dive into the latest design trends with a personalized interior design consultation. Trust Halpin's Flooring America for a kitchen that effortlessly combines elegance and practicality from concept to completion.
The Advantages of New Kitchen Countertops
Upgrade your kitchen with new countertops from Halpin's Flooring America in Gonzales, LA, and experience a myriad of advantages that elevate both style and functionality:
Enhanced Aesthetics: Choose from a wide range of materials, colors, and patterns to match your design vision.
Increased Durability: Enjoy surfaces that withstand daily wear and tear, ensuring longevity and minimal maintenance.
Improved Functionality: Tailor your countertops to your cooking needs with options like built-in cutting boards or integrated sinks.
Hygienic Surfaces: Opt for materials that are easy to clean, promoting a healthier kitchen environment.
Property Value Boost: Invest in your home's value by installing modern and attractive countertops.
Versatile Material Options: Explore diverse materials such as granite, quartz, or marble, each offering unique benefits.
Halpin's Flooring America brings you countertops that enhance your kitchen's aesthetic appeal and contribute to a more practical and enjoyable culinary space.
Our Countertop Selection
At Halpin's Flooring America in Gonzales, LA, we take pride in offering a diverse selection of countertops, each with its unique characteristics to suit your style and practical needs:
Quartz Countertops:
Modern Elegance: Enjoy a sleek, contemporary look that seamlessly complements any kitchen design.
Durability: Experience a resilient surface resistant to scratches, stains, and heat, perfect for busy kitchens.
Low Maintenance: Quartz requires minimal upkeep, making it an ideal choice for those seeking style and convenience.
Granite Countertops:
Timeless Beauty: Revel in the natural allure of granite with unique patterns and colors that add character to your kitchen.
Sturdy and Heat-Resistant: Benefit from a robust surface that withstands heat, making it ideal for cooking enthusiasts.
Increased Home Value: Granite countertops are an investment that enhances your property's overall value.
Stone Countertops:
Distinctive Charm: Choose from an array of natural stone options, each showcasing its own one-of-a-kind beauty.
Classic Appeal: Stone countertops exude timeless elegance, bringing a sense of luxury to your kitchen.
Customization Options: Personalize your kitchen with various stone choices, allowing you to achieve a truly unique look.
The Many Benefits of Kitchen Backsplashes
Enhance your kitchen with a thoughtfully chosen backsplash from Halpin's Flooring America in Gonzales, LA, and enjoy a multitude of benefits that elevate both style and functionality:
Aesthetic Finesse: Elevate your kitchen's visual appeal with a backsplash that complements your overall design.
Easy Maintenance: Simplify cleaning routines as backsplashes protect your walls from stains and splatters.
Customization Options: Express your personality with various materials, colors, and patterns for a truly personalized touch.
Protective Shield: Safeguard your walls from moisture and grease, ensuring long-lasting durability.
Increased Property Value: Enhance the overall value of your home with a stylish and functional backsplash.
Our Backsplash Selection
Dive into the exquisite world of backsplashes at Halpin's Flooring America in Gonzales, LA, where our curated selection ensures a perfect blend of style and durability. Explore a diverse range of materials, each with its unique characteristics:
Ceramic Backsplashes:
Versatility: Choose from various colors and patterns for a customizable look.
Affordability: Enjoy an attractive option that doesn't compromise on budget.
Porcelain Backsplashes:
Durability: Benefit from a resilient surface that stands up to daily wear and tear.
Low Maintenance: Porcelain backsplashes are easy to clean, ensuring a hassle-free kitchen.
Marble Backsplashes:
Elegance Personified: Revel in the timeless beauty of marble, adding a touch of luxury to your kitchen.
Distinctive Patterns: Each marble piece is unique, creating a one-of-a-kind backsplash.
Stone Backsplashes:
Natural Charm: Embrace the rustic appeal of natural stone, bringing warmth to your kitchen.
Longevity: Stone backsplashes are known for their enduring quality, ensuring lasting beauty.
Professional Installation and Design Expertise at Halpin's Flooring America
Elevate your kitchen remodeling experience with the professional installation and design expertise offered exclusively at Halpin's Flooring America. Our comprehensive services guarantee a seamless transformation, focusing on every detail with precision and flair:
Flooring Excellence: Trust our skilled installers to bring your flooring vision to life. From precise measurements to flawless installations, we guarantee a stunning foundation for your kitchen space.
Backsplash Brilliance: Our installation team expertly handles the intricate details of the backsplash application. Whether it's ceramic, glass, natural stone, or a custom design, we ensure a meticulous installation that elevates the aesthetics of your kitchen.
Countertop Craftsmanship: Experience the epitome of professionalism as our experts install your chosen countertop with precision. Whether it's the timeless appeal of granite, the versatility of quartz, or the natural charm of stone, we ensure a seamless integration into your kitchen.
Professional Design Assistance for Your Remodeling Project:
Collaborative Design Consultations: Partner with our skilled designers, who will collaborate closely with you to understand your style, preferences, and functionality needs for a personalized kitchen design.
Tailored Solutions: Receive expert advice on flooring, backsplash, and countertop selections that align with your vision and budget, ensuring a harmonious and cohesive design.
Cutting-Edge Trends: Stay ahead of the curve with insights into the latest interior design trends, ensuring your kitchen reflects contemporary elegance. Halpin's Flooring America is dedicated to turning your remodeling dreams into reality with a perfect blend of expertise and style.
Contact us to learn more about our kitchen remodeling services. We proudly serve customers in Gonzales, LA, and the surrounding areas.