Kitchen Backsplashes in Gonzales, LA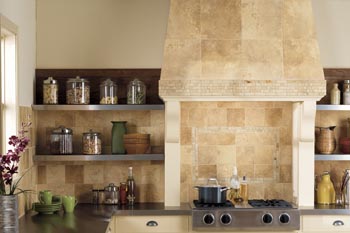 Choosing a custom backsplash to add visual interest to your kitchen aesthetic is a great investment in your home. Sometimes your kitchen doesn't really need a full-scale renovation, but can't be greatly improved with a new tile, stone, or marble backsplash. Rely on our specialists to add some distinctive style to your existing décor. We offer material and installation for custom backsplashes in a variety of materials, including tumbled stones, subway tiles, and mosaics.


Brighten Your Kitchen with Your Choice of Tile Backsplashes
Backsplashes are a classic feature in stately homes, and no option brings more classic appeal than tile backsplashes. Cleaning above your oven becomes a breeze. All you need is a damp cloth to wipe away food splatters or other debris. Substances which would normally stain paint or wallpaper become non-issues when you choose to invest in one of our custom backsplashes. The creative design opportunities are nearly endless with tile, since customers can choose from a huge variety of shapes, sizes and colors.


Chic and Functional Marble Backsplashes
Marble backsplashes are practical and elegant. It has been used for centuries to provide an atmosphere of unparalleled sophistication in buildings around the world. The smooth, veined patterns are wholly unique to each piece of marble, which means that your kitchen will be completely original. Since marble is a naturally occurring material, it is also more eco-friendly. Get the classic beauty and enduring strength when you choose this type of backsplash. It will add value, not only to your kitchen, but to your entire home.


Create Sleek, Modern Appeal with Stone Backsplashes
If you're interested in a more modern look, stone backsplashes offer a uniquely beautiful and contemporary focal point for your kitchen. Like our other options, it will also be easy to clean and involve minimal maintenance. For the environmentally conscious customer, stone is a notably eco-friendly option due to its natural abundance. It provides a wide variety of design opportunities as well.


Our Backsplash Installation Is Guaranteed
Customer service doesn't stop at the door for us. Our licensed, highly skilled backsplash installation team is ready to bring your materials to your home and make the backsplash of your dreams a reality. Efficient and experienced, there's nothing we can't handle. In fact, we're so confident in our abilities that we offer a Lifetime Installation Guarantee. If you ever have issues with your backsplash that are related to installation, we'll fix the problem – completely free of charge.



Contact us and schedule a free in-home estimate so we can start make your renovation dreams a reality. We proudly serve customers in Gonzales, St Amant, Sorrento, Donaldsonville, Geismar, LA, and the surrounding areas.