Hardwood Flooring in Gonzales, LA
Upgrade the flooring in your property or improve the appearance and resale value of your home with stunning hardwood flooring in Gonzales, LA. With all of the timeless hardwood options at Halpin's Flooring America, it has never been more convenient or affordable to dramatically transform your interior space. Our friendly and knowledgeable staff can help you discover the perfect match for your home or business décor with our wide range of engineered or solid hardwood floors. Visit our Gonzales, Louisiana, showroom today to get started!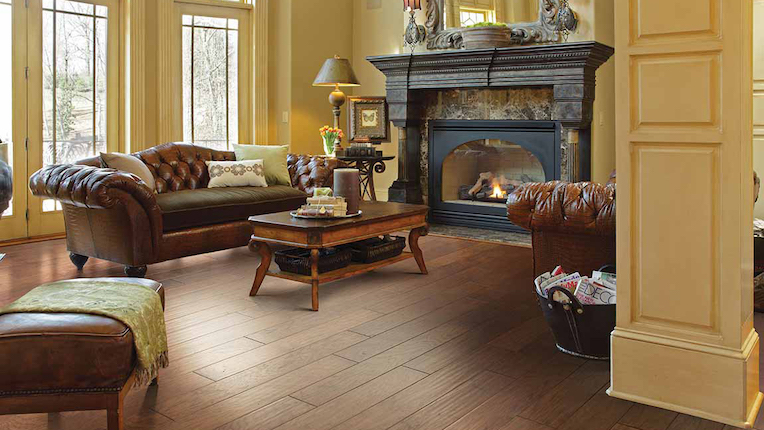 Find The Right Type of Hardwood Flooring for You
When you shop at Halpin's Flooring America, you can choose from a variety of wood species, plank cuts, plank sizes, graining and knotting patterns, stains, and wood tones. Our flooring experts will go over all the benefits of the different flooring options we offer and perform a professional hardwood flooring installation once you make your decision. Let us know your desired interior design and describe your space, and we can recommend a style and brand that best suits your needs in looks, performance, and price. Learn more about the types of hardwood flooring available at our local Gonzales flooring store:
The Timeless Appeal of Solid Hardwood Floors
When shopping for new hardwood flooring, the first thing you need to decide on is whether you want solid or engineered hardwood. Each type has its distinct advantages. Homeowners love solid hardwood because it's made from one solid plank, giving it a firm feel and high-end appearance. It has tremendous strength, the ability to support a lot of weight without bending, and it is also easy to clean.
The hardwood flooring installation process for solid hardwood is seamless when you hire experienced professionals, so you are sure to get a uniform and stable fit. Additionally, when the time comes to refresh your floors or switch up the look, we offer hardwood refinishing services for solid wood flooring. Due to the high demand for this type of wood floor, it is a smart long-term investment that greatly enhances the overall value of any home or business.
Stylish & Durable Engineered Hardwood
Engineered hardwood is the most cost-effective type of hardwood available on the market. Despite its affordable price, it is extremely versatile and beautiful to behold. It is made with layers of plywood and fiberboard that give it flexibility, and it is, therefore, less likely to crack. The top layer is made from real hardwood, so you still enjoy the authentic-looking wood species. One of its most beneficial features is its resistance to moisture, so you do not have to worry about warping if you place your engineered hardwood in areas that are exposed to water or moisture. Our Louisiana customers love engineered hardwood as it performs exceptionally well in high humidity.
Benefits of Hardwood Floors for Your Gonzales Home
At our full-service flooring company, we offer sales, design assistance, and installation for all types of hardwood floors. Take the stress and hard work out of the equation and trust in our experienced crew for help from selection to hardwood flooring installation. You can feel confident in your hardwood purchase because we only sell quality flooring from the most trusted hardwood brands in the business, including Downs, Design Distinctions, HomeCraft, FloorCraft, Shaw, Mohawk, Mannington, and more.
From unfinished solid hardwood flooring straight from the mill, to classy engineered hardwood that meets your specific flooring needs, we have something for every aesthetic preference. Rely on our flooring specialists to inform you about the outstanding characteristics of all of our floor options, including:
Engineered or solid hardwood flooring is simple to maintain.
You can even request specific aesthetic features to better suit your needs, such as hand-scraped hardwood floors to put in a rustic cabin or a kitchen with traditional furnishings
Hardwood can last a lifetime when properly cared for.
It offers exceptional durability and strength in high-traffic areas.
Wood flooring increases the property value of your home.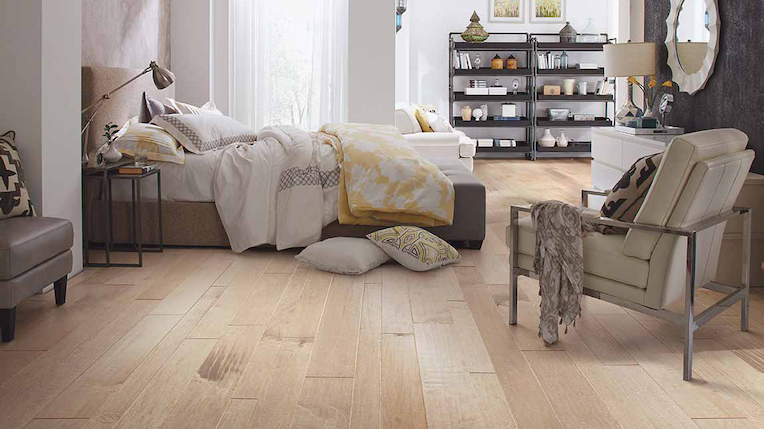 Selecting Your New Hardwood Flooring
Choose from many different engineered and solid hardwood flooring materials when you want to upgrade your current flooring to elegant hardwood. We work with you to determine the best material for your budget and interior décor. If you have any questions, our design experts are on hand to help answer any of your flooring questions. Our experts know how to enhance the appearance and value of your home or office with stylish and durable floor options.
Easy Hardwood Flooring Maintenance
Hardwood flooring is easier to maintain than one might believe. All it takes for lasting shine is to follow our easy hardwood flooring care tips:
Sweep or vacuum regularly.
Wipe up any spills promptly.
Mop occasionally with a manufacturer-recommended hardwood flooring cleaner.
Always discuss proper care for your specific type of hardwood with our hardwood specialists.
Hardwood Floor Refinishing Services Available
Wood floors last a long time, but they aren't invulnerable to damage. Foot traffic dulls the finish over time. Dragging furniture might leave behind scratches. A spilled drink could create a stain. However, Halpin's Flooring America can make your floor look like new again. Choose us for transformative hardwood refinishing in Gonzales, LA.
Refinishing is an effective way to refresh your floor's appearance and extend its lifetime. Reach out to our team to finish your engineered or solid hardwood flooring in Gonzales. We thoroughly prepare your surface, so the new finish adheres correctly. Likewise, we pay attention to detail to ensure the result looks stunning. Whether you want your hardwood to look like the day you bought it or you want to try a brand-new look, we're here to help.
Professional Hardwood Flooring Installation
Save time and energy when you hire our skilled team of hardwood flooring installation professionals to enhance the rooms in your home or business. Let us take care of everything for you. Our team does this type of work every day, so we have the experience and knowledge necessary to ensure exceptional results. Invite us to your home or business and we'll create wall-to-wall beauty.
Our installers are trained and skilled in all aspects of hardwood installations, and we know how to handle any unexpected issues that may arise during the project. Further, we back each of our hardwood flooring installations with our Ultimate Confidence Guarantee. This is our promise you will love your floors, or you can contact us within 30 days and we will make it right at our own expense. Let us turn your regular house into the home of your dreams with hardwood flooring at Halpin's Flooring America.

Contact us today to learn more about our hardwood flooring products, hardwood installation services, or hardwood refinishing services! We proudly serve customers throughout Gonzales, St. Amant, Sorrento, Donaldsonville, Geismar, French Settlement, Maurespas, Pierre Part, Baton Rouge, and Napoleonville, Louisiana.